Willemstad – The award ceremony of the Stars of the Industry 4th quarter of 2017 was held at CHATA member Landhuis Bloemhof.
During this event, the 1st quarter employees and supervisors nominated by a variety of CHATA members were recognized and celebrated. All the nominees received a gift provided by BlueBay Golf & Beach Resort, Sunscape Curacao Resort, Spa & Casino and Landhuis Bloemhof.

Each quarter CHATA focuses on a different personal quality a person has that brings out the best in them while working in the hospitality/tourism industry. The focus of this quarter is helping one another.
According to President & CEO, Mr. Miles Mercera, "Helping others creates a sense of meaning in our lives. It fulfills some of the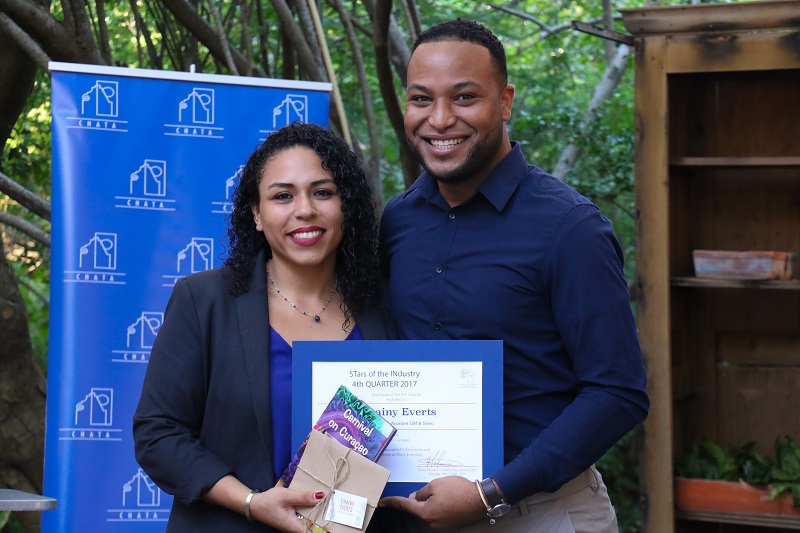 most basic needs such as connecting with others and creating lasting relationships. By having lasting relationships, one promotes team spirit and earns a sense of belonging.
This as a result, increases productivity and also ensures a pleasant working environment. Someone once said, "Together we can achieve more!" This is because there is power in a group of people who work together toward a common goal. A strong team, brings out the best in each member and makes it possible for the team to achieve something that one man only never could."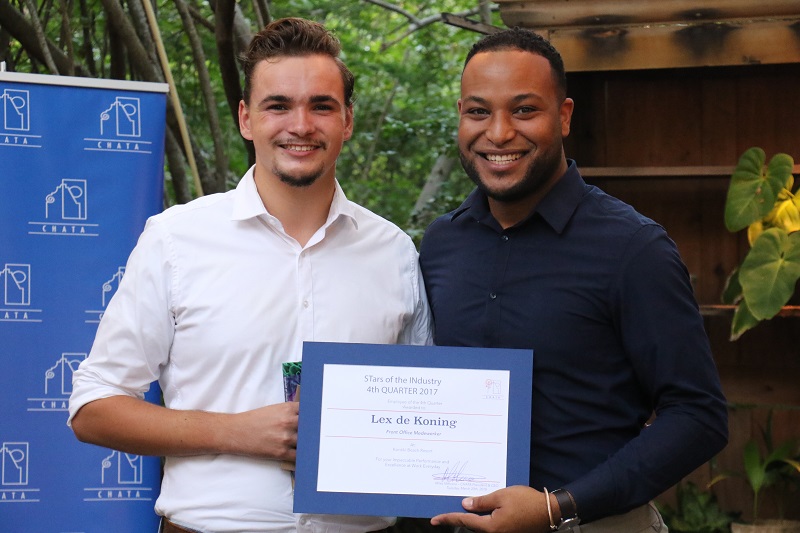 CHATA is proud to share with you the results of the Stars of the Industry for the 4th Quarter of 2017:
| | | |
| --- | --- | --- |
| CHATA Member | Name Employee | Position Employee |
| Ananda Wellness Retreat Curacao | Thaelis Jacobs | Administratie |
| Bahia Apartments & Diving | Laurinda Monte | Serveerster |
| Bahia Apartments & Diving | Margerth Isenia | Waiter |
| Bahia Apartments & Diving | Jhurny Ostiana | Zelftandig Werkend Kok |
| Blue Bay Golf Course N.V. | Roch Wendell | Greenkeeper |
| FBTT Travel BV | Livette Lesire | Tour Guide |
| Hilton Curaçao | Lihainy Everts | Administrative Assistant GM|Sales |
| Karakter | Sjavick Candel | Beach Waiter |
| Karakter | Hensley Andrea | Cook |
| Kontiki Beach Resort | Lex de Koning | Front Office Medewerker |
| Oasis Coral Estate Beach, Dive & Wellness Resort | Madeline Blindenburg | Housekeeping |
| Papagayo Beach Club | Clinton McCoy | Bartender |
| Papagayo Beach Resort | Tiffany Cecilia | Frontdesk Clerk |
| Papagayo Hotel | Jamyl Clemencia | Front Office/Reservation Clerk |
| Renaissance Curaçao Resort & Casino | Elizabeth Cabrera | Server |
| Serena's Art Factory | Judith Martha | Workfloor Allrounder and Sales, Teacher |
| Serena's Art Factory | Jade Calvenhoven | Algemeen Medewerkster |
| | | |
| --- | --- | --- |
| CHATA Member | Name Supervisor | Position Supervisor |
| Ananda Wellness Retreat Curaçao | Pearly Mangsat | Supervisor Cook |
| Cabana Beach Curaçao | Letisia Germain-Pinto | Supervisor Bar & Bediendingen |
| Hilton Curaçao | Dailrugia Djaoen | Senior Housekeeping Supervisor |
| Oasis Coral Estate Beach, Dive & Wellness Resort | Sabrina d' Arco | Operations Manager |
| Papagayo Beach Club | Eddyson Martis | Supervisor |
| Renaissance Curaçao Resort & Casino | Candida Gordon | Cage Supervisor |